Search Engine Marketing (SEM)
Boost Your Business with AnjasDev's Powerful SEM Strategies
Dominating the Digital Realm with AnjasDev Search Engine Marketing (SEM)
In today's digital age, visibility is the key to success. More than having a fantastic product or service is required; you must ensure your target audience can find you online. This is where Search Engine Marketing (SEM) steps in, and at AnjasDev, we're here to guide you through the maze of online advertising and lead you to the spotlight.
What is SEM and Why Is It a Wise Investment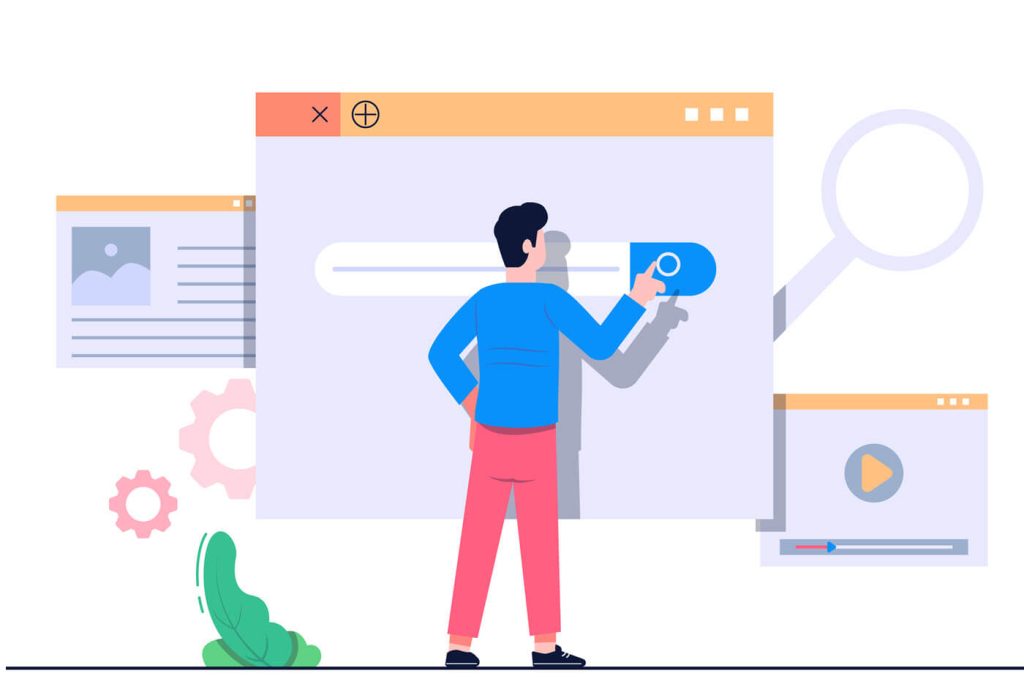 What Are Search Engines?
Search engines guide potential customers to your virtual doorstep. Consider them the ultimate digital matchmakers, expertly connecting users with the precise information, products, and services they seek. Esteemed search engines such as Google, Bing, and Yahoo wield significant influence, actively molding and enhancing your online visibility and impact.
Why Search Engines Matter
Achieving a prominent position atop search results is essential, as it gives your website trustworthiness and credibility. Users inherently gravitate toward the top-ranked results, making it imperative that your website occupies those coveted positions.
How Does SEM Work?
SEM, or Search Engine Marketing, constitutes a digital advertising strategy in which enterprises vie for keywords, aiming to showcase their advertisements prominently within search engine results. When users initiate searches using relevant keywords, these advertisements command top positions in the results, and advertisers incur costs solely upon user clicks on their ads.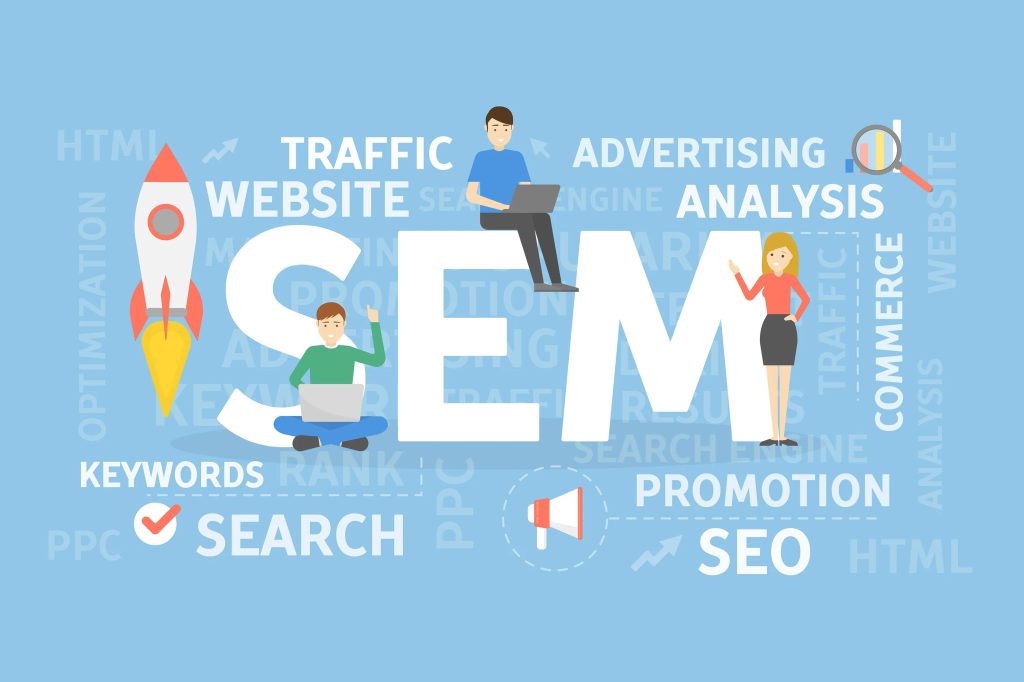 Is PPC Search Engine Marketing Essential to My Business?
You've delved into the world of SEM, but now let's focus on a particular powerhouse within it – Pay-Per-Click (PPC) Search Engine Marketing. If you're wondering whether PPC is essential for your business, the answer is a resounding "Yes," AnjasDev is here to tell you why.
Better Brand Recognition
PPC SEM offers a direct pathway to your target audience, ensuring your brand is in the spotlight when it matters most. AnjasDev's PPC strategies elevate your brand's visibility and reinforce its identity. With well-crafted ads and strategic placement, we ensure that your brand becomes synonymous with the solutions your audience seeks.
Specific Targeting
One of the remarkable strengths of PPC SEM is its precision. AnjasDev leverages this precision to ensure your message reaches the right people at the right time. We meticulously define your target audience based on demographics, location, interests, and behavior. Your ads are displayed to those most likely to engage with your business.
Measurable Growth
SEM isn't a leap into the unknown; it's a meticulously data-guided expedition. AnjasDev furnishes you with exhaustive insights into the performance of your campaigns. Every facet, from click-through rates to conversion metrics, is diligently tracked and analyzed. Our steadfast dedication to quantifiable progress ensures that you can tangibly witness the genuine impact of your investment.
Increased Conversion
AnjasDev understands that PPC SEM isn't just about attracting visitors; it's about turning them into paying customers. Our approach is laser-focused on conversion optimization. We create ad campaigns that resonate with your audience, compelling them to act.
Greater Campaign Control
AnjasDev recognizes the value of managing your SEM efforts with precision. With our expertise, you gain unparalleled control over your campaigns. We tailor ad schedules, adjust budgets, and fine-tune targeting to match your business's unique needs. AnjasDev ensures that every aspect of your SEM strategy aligns perfectly with your goals, giving you the power to steer your business in the right direction.
Improved Organic Traffic
SEM and SEO are like two sides of the same coin, and AnjasDev knows how to make them work in perfect harmony. While PPC SEM provides immediate visibility, it also contributes to long-term success by improving your website's organic traffic. Our holistic approach ensures that the keywords driving PPC success bolster your SEO efforts. AnjasDev's SEM strategies are designed to give you a double benefit – instant results and sustainable growth.
Why Work with a Search Engine Marketing Management Company
You Don't Need to Spend Time Learning SEM
Mastering SEM is a journey that demands time, effort, and dedication. AnjasDev understands you have a business to run, and becoming an SEM expert might be outside your agenda. When you collaborate with us, you gain the advantage of our expertise without needing to dive into SEM's intricacies. We've already spent hours learning and experimentation to deliver results. Your time is best spent on your core business activities, leaving the SEM management to us.
You Get Everything
You Need
SEM encompasses various elements, from keyword research, ad creation, bid management, and performance tracking. AnjasDev provides a comprehensive SEM solution covering every aspect of your campaign. We leave no stone unturned to ensure that your SEM strategy is holistic and effective. With us, you get bits and pieces and the full spectrum of SEM services needed to succeed.
In the ever-evolving landscape of SEM, having experts by your side is invaluable. AnjasDev's team comprises SEM professionals who live and breathe digital marketing. We stay up-to-date with the latest trends, algorithms, and strategies to ensure your campaigns are always ahead of the curve. Working with AnjasDev means you have a dedicated team of experts committed to your success.
Why AnjasDev SEM Management Services?
Search Engine Marketing Experts
Our seasoned experts are at the heart of AnjasDev's SEM management services. We're not just SEM practitioners; we're SEM enthusiasts. Our team comprises professionals who have honed their skills in the ever-evolving digital landscape. With AnjasDev, you're getting a service and access to a wealth of expertise. We're passionate about SEM, and that passion fuels your business's success.
Diverse Expertise
SEM is a multifaceted field that requires a diverse skill set. AnjasDev takes pride in offering comprehensive SEM management services that cover every aspect of your campaign. From keyword research and ad creation to bid management and performance analysis, we've got it all covered. Our diverse expertise ensures that your SEM strategy is well-rounded and effective.
Dedicated Account Managers
When you choose AnjasDev, you're not just another client but a valued partner. We assign dedicated account managers to each client, providing personalized attention and support. Your account manager becomes your go-to resource for all things SEM. They understand your business, goals, and vision, ensuring that your SEM campaigns align with your unique needs.
Full-Service Online Solutions
AnjasDev is more than just an SEM management company; we're your one-stop solution for online success. Our services go beyond SEM to encompass a wide range of digital marketing strategies. Whether SEO, content marketing, social media, or web development, AnjasDev provides a holistic approach to digital growth. With us, you have a partner who can address all your online needs under one roof.
Data-Driven SEM Services That Bolster Your Online Success
Data is the currency of success in the digital realm, and AnjasDev's SEM services are the key to unlocking its full potential. Our data-driven approach boosts your online presence and supercharges your business's success. Let's explore how AnjasDev's SEM services harness the power of data to drive your online triumph.
Ready to get started? Take your business to the next level with AnjasDev
Going Beyond SEM: Paid Ad Services from AnjasDev
Trusted by a Diverse Spectrum of Businesses
Our track record speaks volumes. AnjasDev has earned the trust of an array of industries, including:
Partner with AnjasDev, and let's embark on a journey to boost your online visibility, drive conversions, and propel your business to new heights in the digital landscape