Elevate Your Business with AnjasDev's Email Marketing Expertise
Unleash the Power of Email Marketing with AnjasDev
In today's ever-evolving digital landscape, AnjasDev understands the power of effective email marketing and its role in nurturing customer relationships, driving conversions, and, ultimately, boosting your bottom line. Let's embark on a journey to uncover the immense potential of email marketing.
Email marketing is more than just sending promotional messages to a list of contacts. It's a strategic and personalized approach to engage your audience, foster brand loyalty, and achieve tangible results. At AnjasDev, we craft email marketing campaigns that speak directly to your customers, delivering content that matters to them.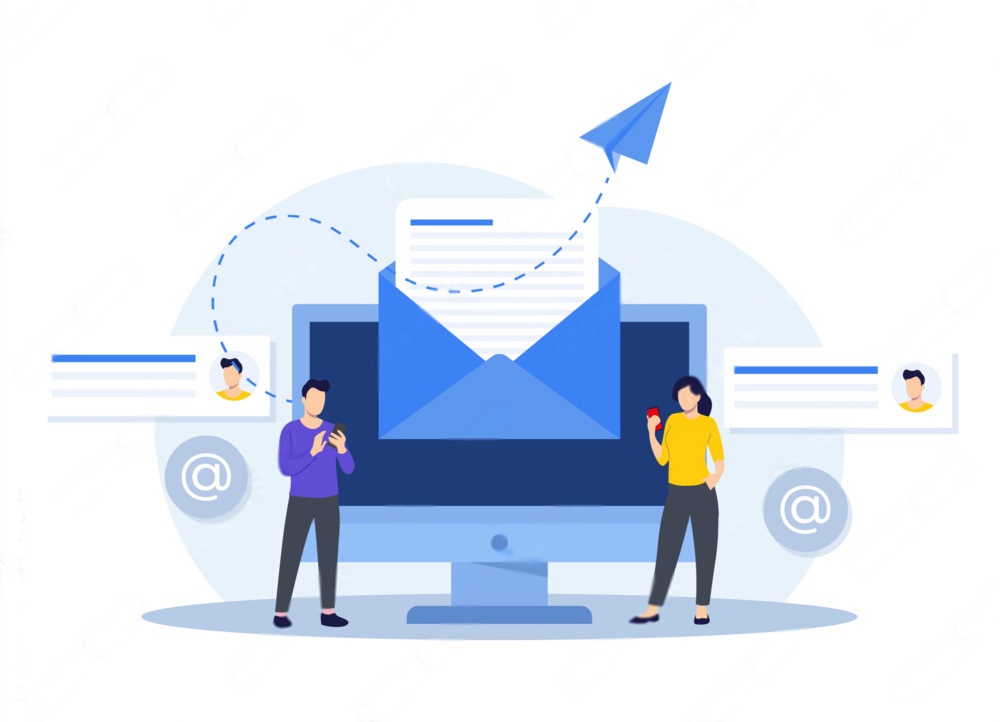 Email Marketing Strategies & Automation to Increase Sales from Your List
What Do Our Email Marketing Services Include?
Ready to get started? Take your business to the next level with AnjasDev.
Your Search for Email Marketing Services Ends Here
At AnjasDev, we understand the unique challenges of email marketing and offer a comprehensive suite of services that will transform your email campaigns from ordinary to extraordinary. When you partner with us, you'll benefit from our expertise in:
Building Targeted Email Lists
A successful email marketing campaign begins with the right audience. AnjasDev is dedicated to helping you build and nurture targeted email lists primed for engagement. We don't believe in generic lists. Instead, we focus on attracting subscribers genuinely interested in your brand, products, or services. We employ proven strategies to optimize your website for email capture and utilize compelling incentives to encourage sign-ups. We aim to fill your email list with eager individuals to hear from you, making your campaigns more effective and driving higher conversions.
Engaging in Email Content Creation
Content is king in email marketing, and AnjasDev is your content creation partner. We craft engaging and persuasive email content that resonates with your subscribers. Whether it's a captivating newsletter, a product announcement, or a personalized message, our team ensures that every email you send is designed to grab attention and inspire action. We understand the importance of striking the right balance between informative and persuasive content. When you choose AnjasDev, you choose email content that looks great and converts subscribers into loyal customers.
Email marketing isn't a one-size-fits-all endeavor; we at AnjasDev are keenly aware of that. Our expertise is in fashioning personalized email marketing strategies that cater to your business objectives and target audience. We invest the effort to comprehensively understand your brand, industry, and the hurdles you face. Subsequently, we meticulously devise a strategy that seamlessly aligns with your goals, guaranteeing that every email campaign serves a distinct purpose in advancing your marketing endeavors. Our custom strategies are data-driven and results-focused, designed to maximize your ROI and deliver measurable success.
At AnjasDev, our success in email marketing is driven by industry-leading teams. Our experts are at the forefront of email marketing trends and technologies, constantly innovating to deliver the best results for our clients. Our teams are composed of seasoned professionals with extensive experience crafting effective email campaigns, designing captivating visuals, and interpreting complex data for optimization.
Why Choose AnjasDev Email Marketing Services?
At AnjasDev, we take pride in being your trusted partner for email marketing, and there are several reasons why you should choose our services:
Results-Driven Strategy Development
When it comes to email marketing, it isn't solely about dispatching emails; it hinges on delivering precisely the right emails to the right individuals at the opportune moment. AnjasDev excels at developing results-driven email marketing strategies aligning with your business goals. Our systems are designed to ensure that every email you dispatch holds a significant role in your overall marketing expedition. Our primary emphasis is on attaining quantifiable outcomes, including heightened engagement, improved open rates, and enhanced conversions and revenue generation.
Behaviorally-Triggered and Data-Driven Automation
Behaviorally-triggered and data-driven automation is at the core of AnjasDev's email marketing services. We believe in sending the right message at the right time based on your subscribers' actions and behaviors. Our automated campaigns are designed to respond to subscriber actions such as clicks, opens, and purchases. We use data-driven insights to create personalized, dynamic interactions that guide your audience toward conversion. We drive engagement and increase sales by tailoring your messages to individual behaviors.
Cross-Device Design
In today's digital landscape, your audience accesses emails on various devices, from smartphones to desktops. AnjasDev excels in cross-device design, ensuring your emails look great and function seamlessly across all platforms. Our responsive designs adapt to each device's screen size and orientation, providing a consistent and engaging experience. Whether subscribers open emails on a mobile phone during their commute or on a laptop at home, they'll receive a visually appealing and user-friendly message. Every subscriber deserves a top-notch experience, no matter how they access your emails.
Email & SMS List Growth Services
Building a robust email and SMS list is essential for the success of your email marketing campaigns, and AnjasDev specializes in list growth services. We go beyond basic list-building tactics to attract and retain engaged subscribers. Our team leverages various strategies, from optimizing your website for sign-ups to creating compelling incentives encouraging people to join your list. We understand that a quality list is one where subscribers are genuinely interested in your brand, ensuring that your messages have a higher chance of making an impact.
Cohesive Campaign Planning & Execution
AnjasDev doesn't just send emails; we meticulously plan and execute cohesive email marketing campaigns that tell a story, engage your audience, and drive results. Our approach is strategic, with each email serving a purpose in your campaign. We understand the importance of consistent messaging and branding across all your emails. From the first touchpoint to the final conversion, AnjasDev ensures that your campaigns are well-coordinated and aligned with your business objectives.
Advanced Analytics & Optimization
Data is the backbone of successful email marketing, and Anjas Dev leverages advanced analytics to provide valuable insights. We don't just send emails into the void; we track and measure their performance meticulously. Our team conducts in-depth analysis of open rates, click-through rates, conversion metrics, and more. We use this data to optimize your email campaigns continuously, making data-driven decisions that improve results. By partnering with AnjasDev, you're tapping into a wealth of data and expertise that ensures your email marketing strategy is always on the path to improvement.
FAQs About Email Marketing Services
Ready to take your email marketing to the next level?
Give us a ring to start increasing conversions through more robust customer engagement.